**Limited Time Offer**
Get FREE 6″ Seamless Aluminum
Gutters with Full Roof Replacement
For a limited time we are offering Free Gutters to Any customer that pays for a full roof replacement. On most homes this is an average value that exceeds $1000.
This offer can even be used on roof replacements that are paid for by your insurance company. So if you are getting a new roof due to hail or wind damage… and your insurance company is footing the bill… ALL you will be responsible for paying is your deductible. That's it.
Which means in some cases you will be getting complete roof replacement and brand new gutters for only $500 or $1000. Just depends on the amount of your deductible.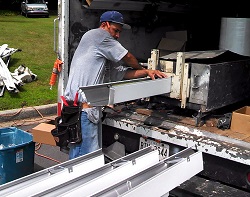 Here are the ONLY restrictions to this promotion:
Free Gutters ONLY. Does Not include downspouts.
Color restrictions. Color must be stock color. No special orders
That's all! No other restrictions…
Call today and let's get started. As of the time of this posting, the offer Expires August 1, 2014
Call (404)902-8799